Discovery Trail Community Bike Ride- Aug 14 CANCELLED
With Tania Garcia
Open Dates
Join NWDC as we kick off our first summer community bike series! Come and explore Pueblo's unique section of the American Discovery Trail from our River Campus (former Nature Center) to Lake Pueblo. Ranger Dragonfly will lead this leisurely ride while interpreting the local ecosystems, flora and fauna.
Dates:

Wed. Aug 14-CANCELLED

, and Wed. Sept 18 at 5:30pm

Please bring your own bike, helmet, safety gear, and water.

Plan on a 1.5 – 2 hour, moderate ride.

Registration is not required. This program is free. Parking fee is required.
About the American Discovery Trail: discoverytrail.org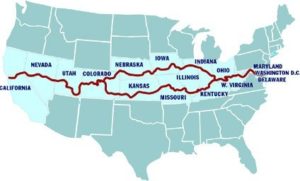 The American Discovery Trail is a new breed of national trail — part city, part small town, part forest, part mountains, part desert — all in one trail. Its 6,800+ miles of continuous, multi-use trail stretches from Delaware, to California. It reaches across America, linking community to community in the first coast to coast, non-motorized trail. The ADT provides trail users the opportunity to journey into the heart of all that is uniquely American — its culture, heritage, landscape and spirit.
Colorado Trail Description  The total length of the ADT in Colorado is 1,153 miles.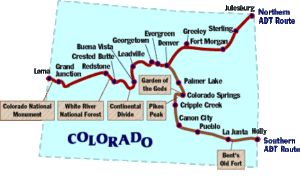 Seg 1 – Southeast Segment (Kansas/Colorado State Line to Canon City) From Kansas, the ADT crosses the eastern plains of Colorado along the Arkansas River climbing from 3,555 feet to 5,293 feet over a distance of 221 miles. The ADT follows the general route of the old Santa Fe Trail to La Junta and passes by Bent's Old Fort National Historic Site. It also goes through John Martin Reservoir State Park and Lake Pueblo State Park. The route uses county and state roads through the pastoral countryside. 
Leader
Tania Garcia
Tania Garcia, also affectionately known as "Ranger Dragonfly", was born and raised in Puerto Rico, therefore her primary language is Spanish. She received her master's degree in Spanish literature and during her college years she supported herself teaching in Florida. She has taught in middle school, high school, and College, teaching Spanish and French. Tania moved to Colorado in 1984 were she became a substance-abuse counselor in 1985.  After a successful twenty-year career, Tania retired in 2011 from the Colorado Department of Corrections. She was hired as an Environmental Educator at the Pueblo Mountain Park in 2012. Tania love nature…
Learn more about Tania Garcia