Winter Solstice Walk at the River Campus
December 15, 2018
Winter Solstice Walk 2018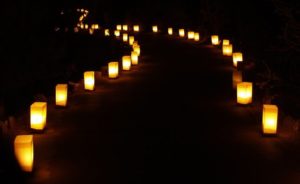 Hundreds of luminarias will glow along the river trail on this magical evening as we celebrate the approach of the longest night of the year (Dec. 21). Take a stroll through this winter wonderland.
Warm refreshments and treats are available for purchase in the Yurt.
No registration required.
This program is free of charge. We always appreciate donations. If you would like to make a donation please click "Donate Here!" to be directed to our suggested donation form. Happy Holidays!